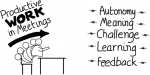 Guest Post by Dick Axelrod
Are meetings in your organization places where productivity goes to die? If you answered yes, you are not alone. There are 11 million meetings a day in the U.S. alone. Half are ineffective.
The problem with most meetings is that meeting leaders and participants do not think of them as places to do productive work.
An efficiency mindset prevails. How to get through the agenda as quickly and efficiently as possible becomes the driving force behind many meetings. This strategy may work to minimize the pain you associate with meetings, but it does not lead to a positive work experience.
In order to transform meetings into productive work experiences, look to two unlikely sources: the factory floor and . . . → Read More: Make Your Next Meeting as Engaging as a Video Game