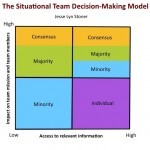 There are six ways teams can make decisions. Some people believe that in a collaborative environment, consensus is the best. But that's a big mistake.
Pushing for consensus when it's not needed actually makes collaboration more difficult. The best collaborative environments are situational in their approach to team decision-making.
You make countless decisions every day. Knowing when and how you need to involve others, and the best team decision-making method for each situation, will help you make the right decisions, will make implementation easier and will save time in the long run.
The Six Types of Team Decisions
Individual. The individual who is responsible for the outcome makes the decision. If your office is running low on pens, the office manager can decide . . . → Read More: Situational Team Decision-Making: Collaboration Does Not Require Consensus