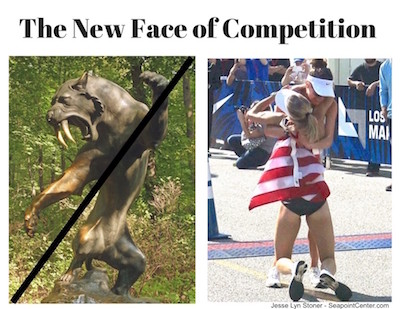 It's time to rethink the role of competition. The idea that "it's a dog-eat-dog world" no longer holds true, and cut-throat competition doesn't benefit anyone, including yourself.
In business, the lines between competitors and customers have become increasingly blurred. Netflix competes with Amazon and at the same time is their customer. Many small and mid-size companies both compete and cooperate with each other to grow their shared market, not just their market share.
If you think competition is a necessity for success, consider innovative companies like Tesla and Salesforce that have grown and excelled for years with virtually no competition.
We see the new face of competition on athletes like Shalane Flanagan who ground it in authentic, close relationships.
Flanagan is a long-distance runner who holds the American record for times in the 3000 meters (indoor), 5000 m (indoor) and 15K road race, an Olympic medalist and winner of the 2017 New York City Marathon (the first American woman to win in 40 years).
Shortly after winning the Marathon, Lindsay Crouse explained Flanagan's approach to competition in the New York Times article How the 'Shalane Flanagan Effect' Works.
Instead of being threatened by her teammates' growing accomplishments, Flanagan embraced them, and brought in more women, elevating them to her level until they become the most formidable group of distance athletes in the nation. National championships, world championships, Olympics: They became some of the best runners in the world.
Every single one of her training partners, 11 women in total, has made it to the Olympics while training with her, an extraordinary feat. Call it The Shalane Effect – You serve as a rocket booster for the careers of the women who work alongside you, while catapulting forward yourself.
Flanagan is not simply being altruistic. Make no mistake, she competes to win. But it's not about defeating her competition. She has figured out that the stronger she helps her competition become, the better and stronger she becomes. And it has paid off for everyone, including Flanagan.
During the 2016 U.S. Olympic women's marathon trials for the Rio de Janeiro Games, Flanagan began to falter at 23 miles, clearly in distress. Amy Cragg, her training partner, who was also competing for a spot on the Olympic team, turned to her repeatedly to cajole her, slowing her own pace to coax her on.
In an LA Times interview, Cragg said, "Before the last water stop I looked at her and she was turning bright red and I knew the heat was getting to her. That's where I told her, 'I'm going to get you a water bottle. Dump the whole thing on your head.'" And that's what she did.
Because of Cragg's support, Flanngan was able to across the finish line – collapsing into winner Amy Cragg's waiting arms – thus securing her spot on the Olympic team. This is what the new face of competition looks like!
The idea that "winning is everything" is simply out of date.
If you think success is about beating the competition, the race is over as soon as you win. Peak performers focus on being great, surpassing their own limits, and beating themselves, not others.  If they lose a race because the competition did a better job, they admire and respect them for raising the bar. Supporting others increases your own level of success, as Shalane Flanagan showed us.
So why is the old-school idea of the role of competition still hanging around? Why do we see ads telling us to "Compete or Die" with images of roaring lions… and tigers… and bears?
It's time to recognize the new face of competition, to use it to harness our full power, and see our competitors as allies in pushing beyond what we thought was possible.
Photo Credit: Wikimedia Commons | The New Face of Competition: The Role of Competition in Today's World