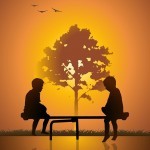 Just because technology makes it possible to be always available, doesn't mean you should be.
There's tremendous pressure on us to be "always on." But it's not healthy, and in the long run you will be less productive.
Even if you understand this, it can be hard to resist the pressure unless you make intentional decisions to create "off time."
Here are 7 habits that can help.
1. Stop multi-tasking. Many people view the ability to multi-task as an admirable skill. They believe they are able to accomplish more. But studies have shown that you actually accomplish less and do it less well. The illusion of productivity comes at the expense of performance effectiveness. The less you multi-task, the less you'll be tempted to . . . → Read More: Tune In and Turn Off