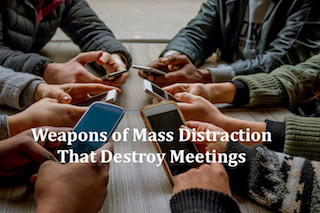 Guest Post by Victor Prince
I used to be a "busy executive" with two phones strapped to my belt in the office – one for work and one for personal use. In most meetings, I put the phones on the table in front of me so I could see if I had any incoming messages. After all, I was an important guy and somebody important might be trying to reach me.
I didn't realize how addicted I was to my mobile phones until I disconnected for a month while I walked the ancient Camino de Santiago pilgrimage trail across Spain. I had brought my iPhone loaded with audiobooks to listen to while I walked an average of 15 miles (24km) per day for a month across Spain. My first day on the trail my phone was in my pocket ready to go, but I decided to hold off until I got bored. In the end, I never turned it on.
Keeping the phone off and put away changed my Camino experience. Without earphones signaling I didn't want to talk, I was more open to opportunities for conversations. I said hello to everyone I passed, instead of just walking by in my own world. Some of those 'hellos' turned into long conversations. In those conversations, I was present and engaged with them, and not distracted by my phone. Some of those conversations have blossomed into lasting friendships that have made my life better. Since my Camino, I have traveled to California, Ireland, Sweden, and England to visit friends I met on my hike. I have even walked the Camino again with one of those friends.
After my experience on the Camino, I began to see my iPhone differently. I realized that although it was a powerful communication tool, the message I was sending was the wrong one. Although I had wanted to be seen as hyper-attentive to my responsibilities, I realized my phones were making me seem rude and inaccessible.
Even though I was in a meeting, I wasn't present. I was distracted. Those two phones in front of me were broadcasting: "I don't even know who is trying to get my attention, but I know paying attention to them is more important than paying attention to you." Why would your team engage fully with you when you are so obviously not fully engaged with them?
Not only were my phones a distraction for myself, they were distracting others as well – weapons of mass distraction.
5 Tips to Remove Weapons of Mass Distraction
Be Self-Aware. If you notice yourself focusing on your phone instead of your colleagues, put it away immediately. Tell your team members they are encouraged to call you out if they notice you paying more attention to your phone than to the people around you.
Set a "No Distractions" Policy for Meetings. Be the champion of a strict "no electronics usage" policy in meetings. If an attendee needs to use his mobile device to text, answer email, or look something up, he should excuse himself from the meeting.
Hold People Accountable. Figure out ways to enforce the policy in meetings. You can do it bluntly by calling out rule breakers in meetings, discuss it privately with repeated offenders, or remind people generally about the policy. Figure out what works for you and your team.
Lead by Example. Hold yourself to the "no mobile distractions" rule in all meetings you attend, not just the ones you run. Be consistent. People will notice.
Champion the Policy. Once your policy is working, help your larger organization adopt the same policy. Advocate its effectiveness. Gather "before versus after" facts or observations to help make the case. Spread the word widely.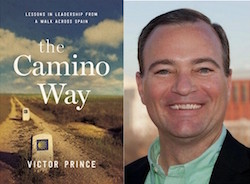 Victor Prince is an author and speaker who teaches strategy, communication, and leadership skills to clients around the world. Victor's new book, The Camino Way: Lessons in Leadership from a Walk Across Spain, was just released in July 2017 from the American Management Association in hardcover, ebook, and audiobook. His first book, Lead Inside the Box: How Smart Leaders Guide their Teams to Exceptional Results, was named a Top 20 Leadership Book of 2016, has been republished in audiobook and Korean-language versions, and is available at retailers like FedEx Office, Barnes & Noble, Hudson Booksellers, and Amazon.com. You can find his books, training courses, keynote speeches and more at www.VictorPrince.com.
Photo credit: Bigstock/pixelrain | weapons of mass distraction