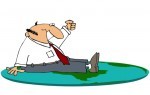 Collaborative leaders create communities where people unite around a common purpose and values, working collaboratively to accomplish a shared vision that makes a powerful and positive impact.
Their job is to champion the vision, provide resources and remove roadblocks. How do they do this? Some of these 12 behaviors could describe any leader. But when you look at them altogether, a pattern emerges that is quite different from traditional leaders.
Collaborative Leaders…
1. Flatten things.
They flatten the traditional hierarchical chain of command and create networks. They also flatten compensation structures so the difference in pay-scale between the top and bottom is not astronomical.
2. Allow leadership to emerge.
They let go of the need to be in control because they trust in the . . . → Read More: 12 Things Collaborative Leaders Do