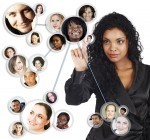 Are you a collaborative leader?
Collaborative leaders understand that organizations are networks of relationships and that relationships are the glue that holds them together.
Anyone can be collaborative leader — no matter whether you are the president, a mid-level manager or a front-line supervisor.. or in a large corporation a small business, a non-profit, or a school.
Collaborative leaders create communities, whether they lead the entire organization or a team within the organization.
Collaboration is not an option – it is an imperative.
If you are in any doubt that collaborative leadership is an imperative, and not just a fad, take a look at any of these 22 articles in the Harvard Business Review series on collaboration.
Or even better yet, watch this . . . → Read More: 8 Things Collaborative Leaders Know