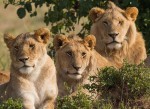 The assumption that change has to start at the top is wrong. You don't have to wait for senior leaders to make it a better place.
Managers don't have to wait for senior management to start a process of organizational revitalization. ~Michael Beer
The first step in building shared vision is to give up the traditional notion that vision is always announced from "on high." ~Peter Senge
Begin within your own sphere of influence.
Where do you have the greatest influence? Most likely within your own team. Consider the widest sphere that you can impact. This is the place to start.
Take responsibility to provide leadership.
Leadership is more than just good management practices. Leadership is about going somewhere.
Where . . . → Read More: Stop Waiting for Someone Else to Provide Leadership