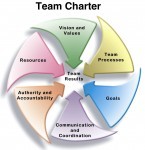 Victor's team had recently delivered a couple of large projects, and he was pleased with their performance. But there was feedback that they were feeling burned out, and two people had recently requested transfers.
When I suggested creating a Team Charter, he told me, "Planning is fine, but I'm all about action. I'd rather see people take action and feel ownership than set up a bunch of rules that slow things down."
Is Victor right? Absolutely!
When people initiate action, they assume greater responsibility for ensuring a successful outcome.
Is Victor wrong? Absolutely!
When people take random action without clear agreements with others, they are likely to waste their time and other's as well.
Here's the paradox:
Create a Team Charter to Go Faster and Smarter