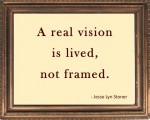 Does your team share a real vision? Is it being lived? Does it make a difference?
Answer these 10 questions to find out how effective your vision is.
Get a reality check. Ask everyone on your team to rate the vision and discuss your answers. It's a non-threatening way to launch a powerful team discussion.
First rate each of the questions on a 1 – 5 scale. Next, find your Score by totaling your responses.
Then find out What Your Score Means and get some ideas to help your team.
Rating Scale
= Rarely = Occasionally = Sometimes = Usually = Almost always
Team Vision Questions 1. Does everyone on your team share the same vision?
2. Are team members excited, inspired and . . . → Read More: How Does Your Team Vision Rate?