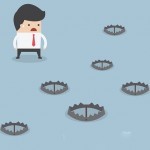 One of the most important things you can do is to identify your team's mission.
And one of the biggest wastes of time is creating a mission statement that is not used.
How to Write a Mission Statement in 5 Steps explains what a mission statement is and how to write one. But simply writing a good statement does not ensure it will be used.
How you create it is as important as what it says.
Avoid these six common traps to craft a powerful mission statement that provides guidance for strategic decisions, focuses your team's energies, and increases their commitment, clarity and trust.
Trap #1: Seeing this as an activity to complete.
Approaching the idea of a mission statement as a task . . . → Read More: To Craft a Powerful Mission Statement Avoid These 6 Traps