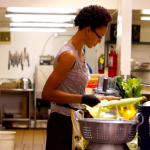 Is it possible to earn a living, have fun and make a difference in the world? Jocelyn Jackson and Keri Keifer have figured out how.
Their business Grace Hearth might be considered a catering company – they cater all sizes of events, from weddings and meetings to small social gatherings.
But the first time I saw their video, I quickly realized they were in the same business I am – building community – only through food instead of facilitating dialogue.
Grace Hearth provides food for all types of occasions, but as Jocelyn and Keri explain in their video, they are actually in the "nourishing business."
I was so excited after watching this video, I had to interview the owners to learn more about . . . → Read More: What Business Are You Really In? Grace Hearth Knows