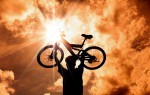 My best boss was also my mentor. He coached me and supported my development, even though it meant I was likely to get promoted. He showed me it is possible for a manager to focus on results and develop their people at the same time.
When eventually I was offered a new position, I confided in him that I wasn't sure I was ready. His response was,
"Remember – You know everything you need to know. You have everything you need to have. You are everything you need to be."
This has become the mantra I repeat whenever I've taken a stretch assignment or felt unsure of myself.
In my own role as a leader, I share his attitude about development. A lot . . . → Read More: Coaching Tips for Managers – When the Bicycle Moment Occurs