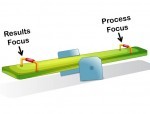 During a break in the meeting, Dan pulled me aside and whispered, "No more 'p' words, please."
"What are 'p' words?" I asked.
"You know," he replied, "Words like process, perspective and paradigm."
Dan is results-driven. There were way too many "p" words in this meeting for his comfort … planning … process … people … participation.
At one time or another, many of us have felt like Dan – that it is so much easier to do the work than take the time to involve others in the process of planning for the work – to just decide where you're going and get on with it.
The problem is, when you're a leader, you can't just announce where you're going and expect people . . . → Read More: Results Driven vs Process Driven Leadership